Jessica's butt plug arrived
Jessica had been waiting for the butt plug that Alexis had mentioned while they were shopping the other day. And today the box arrived for her to open. She took it quickly to the bedroom and opened the box to get her new small butt plug, and the lubricant that she had ordered from WWW.XXX.TOYS4PLAY.COM.
Jessica stripped her cloths off, and got on the bed. She grabbed the lubricant that she had ordered and put some on her finger. She put some on her tight little asshole, and then put more on her finger. She then relaxed and slowly pushed her finger into her tight little asshole. It slid into her so easy, and didnít hurt at all. In fact she found it to feel pleasurable.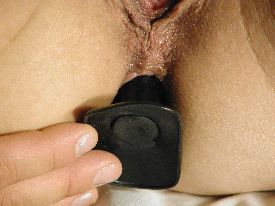 Jessica then removed her finger from her asshole, and put some lubricant on the new small butt plug that she had ordered. She then put the tip of the butt plug to her asshole, and again relaxed. It slid in just as easy as her finger did, without any pain.
Jessica then used her other hand to play with her clit. Should would play until she was about to come, but then would stop for bit. She repeated this teasing for a long time, and finally she had a big orgasm. Finally satisfied, she just laid on the bed for several hours with the new butt plug still in her ass.
Jessica managed to get in and remove the butt plug and got cleaned up so she could go and fix dinner for her boyfriend.
Date: 2010-09-29
Nice butt plug. I want one.
Posted: 2011-02-03 03:52:22
...Bang bang, he shot me downBang bang, I hit the groundBang bang, that awful soundBang bang, my baby shot me down.I know this is not the place for kaakroe, but when I saw those shoes and someone here mentioned Cher, I just couldn't resist..
Posted: 2014-11-19 04:06:11
Add your comment, currently '2' comment(s)