Debbie wants to make love not babies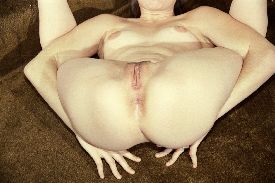 Debbie knows the difference between making a baby and making love. And she has been using a vibrator in her love hole for a long time. Today, she wants a guy in her love hole. But she is worried that all she will find is a guy who wants to make a baby and not love. That is why she uses the vibrator in her love hole.
Debbie went to the bar just around the corner from her house to get a drink and to hopefully score a guy. It didn't take long before Paul; a nice looking construction worker was buying her a drink.
They talked about all kinds of things and had a couple of more drinks, when Debbie it was time to see if the guy was open to making love and not babies. With that Debbie, stood up and put her hand over her pussy and said, "Paul this is for making babies", then she moved her hand from her pussy and covered her butt hole, and said, "this is for making love".
Debbie told Paul, she wanted to go back to her place and make love and not babies, and wanted to know if he wanted the same thing. To her surprise, Paul was I would love to go back to your place and make love and not babies.
Paul paid the bar bill, and they headed for her place. Once in Debbie's place she stripped her cloths off, and invited Paul to do the same. To which he stripped down as well. She went over to the couch and bends over the side of the couch, and asked him to put his dick in her love hole.
Paul was more than happy to do it. He went over and first licked her tight asshole, to get it lubricated so he would be able to put his dick in here. He also just loved the flavor the Debbie had back there.
Paul stopped licking and put the head of his dick on her asshole. And slowly pushed his dick into Debbie. She moaned as he slid his dick into her asshole. And it wasn't long before he shot his hot cum in her asshole. When he did that, she moaned ever louder as she came as well.
Date: 2010-10-22