Jessica gets her new double headed dildo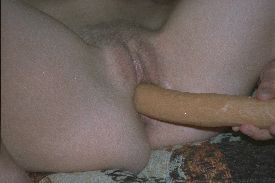 Jessicaís new double-headed dildo arrived, and just like the other boxes, she opened the box, and headed up the stairs so she could try out her new dildo. She stripped off her cloths, and got her butt plug, the other dildo, and the bottle of lubricant.
As usual Jessica put some lubricant on her finger and slid it into her waiting tight asshole. She then switched to the butt plug, and put that in for a couple of minutes while she rubbed her clitoris. She then put more lubricant onto the dildo, and removed the butt plug and put the dildo against her asshole. It also slid in her asshole. She used it for a couple of minutes of in and out with it.
Then Jessica decided it was time for the double-headed dildo. She put lots of lubricant on it, and more on her asshole. Slowly Jessica put the double-headed dildo to her waiting asshole. She took a deep breath, and slowly pushed the double-headed dildo into her asshole. It didnít cause any pain what so ever. And she found that it was very pleasurable to have it in there. She moved the double-headed dildo in and out of her asshole, and each time she would push it in just a little bit further.
Jessica managed to take over half of the double headed dildo in her asshole. She left in there while she used the other dildo in her wet pussy. She felt completely filled with having 2 dildos in her. It wasnít long until she came from this. And she just left the big double-headed dildo in her asshole, and she slept for an hour.
Jessica removed the double-headed dildo from her asshole, and got cleaned up. She knew after a few more days of playing with the double-headed dildo, she would be ready for the boyfriend to cum in her asshole.
Date: 2010-10-15