Jessica's butt plug arrived

Jessica had been waiting for the butt plug that Alexis had mentioned while they were shopping the other day. And today the box arrived for her to open. She took it quickly to the bedroom and opened the box to get her new small butt plug, and the lubricant that she had ordered from WWW.XXX.TOYS4PLAY.COM.
Jessica stripped her cloths off, and got on the bed. She grabbed the lubricant that she had ordered and put some on her finger. She put some on her tight little asshole, and then put more on her finger. She then relaxed and slowly pushed her finger into her tight little asshole. It slid into her so easy, and didn't hurt at all. In fact she found it to feel pleasurable.
Jessica then removed her finger from her asshole, and put some lubricant on the new small butt plug that she had ordered. She then put the tip of the butt plug to her asshole, and again relaxed. It slid in just as easy as her finger did, without any pain.
Jessica then used her other hand to play with her clit. Should would play until she was about to come, but then would stop for bit. She repeated this teasing for a long time, and finally she had a big orgasm. Finally satisfied, she just laid on the bed for several hours with the new butt plug still in her ass.
Jessica managed to get in and remove the butt plug and got cleaned up so she could go and fix dinner for her boyfriend.
Date: 2010-09-29
Jessica wants to know about anal sex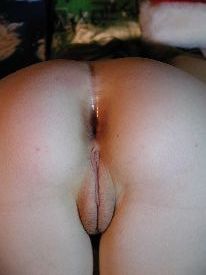 Jessica's friends kept telling her how wonder anal sex was, and she was thinking more and more about trying it. And she knew that Austin, her boyfriend would just love to anal sex, as he always rubs her ass. It was her tight little ass that attracted Austin to her in the first place.
Yet, Jessica was concerned that it would hurt a lot as her boyfriend was very well hung. She thought to herself how will ever be able to take it all in her tight little asshole, and the pain she would feel with a dick in her ass.
On this particular day, Jessica was going to meet her friend Alexis, one of her friends that keeps telling how much she loves anal sex. They were to meet and go cloth shopping at noon. Jessica decided today should would ask Alexis more about anal sex, and how she got into anal sex. Alexis she asked, "When you first had anal sex, were you worried about him being too big and it would hurt?"
Alexis replied, "Yes, I was worried it would hurt, but if you start out slow, and let him use just a finger to start with and always use a lubricant, then use a small butt plus, then go to a bigger butt plug, then a dildo or a vibrator, then the real thing."
Jessica asked Alexis, but where do I get a butt plug and lubricate to get started. Alexis gave her a URL for the website she used to get started.
They finished their shopping and Jessica headed home to get on the computer to go get a small butt plug and lubricant ordered.
Date: 2010-09-27